Parents and students: We still have a large number of Chromebooks that have not been returned. All Chromebooks need to be returned by 3pm Friday, June 3rd. Chromebooks and chargers can be returned to the front office.
All chromebooks MUST be turned in by ALL students. Any chromebook not returned will be marked lost and the device will be locked down. Students not returning chromebooks and chargers will not be issued one next school year.
LRSD Graduation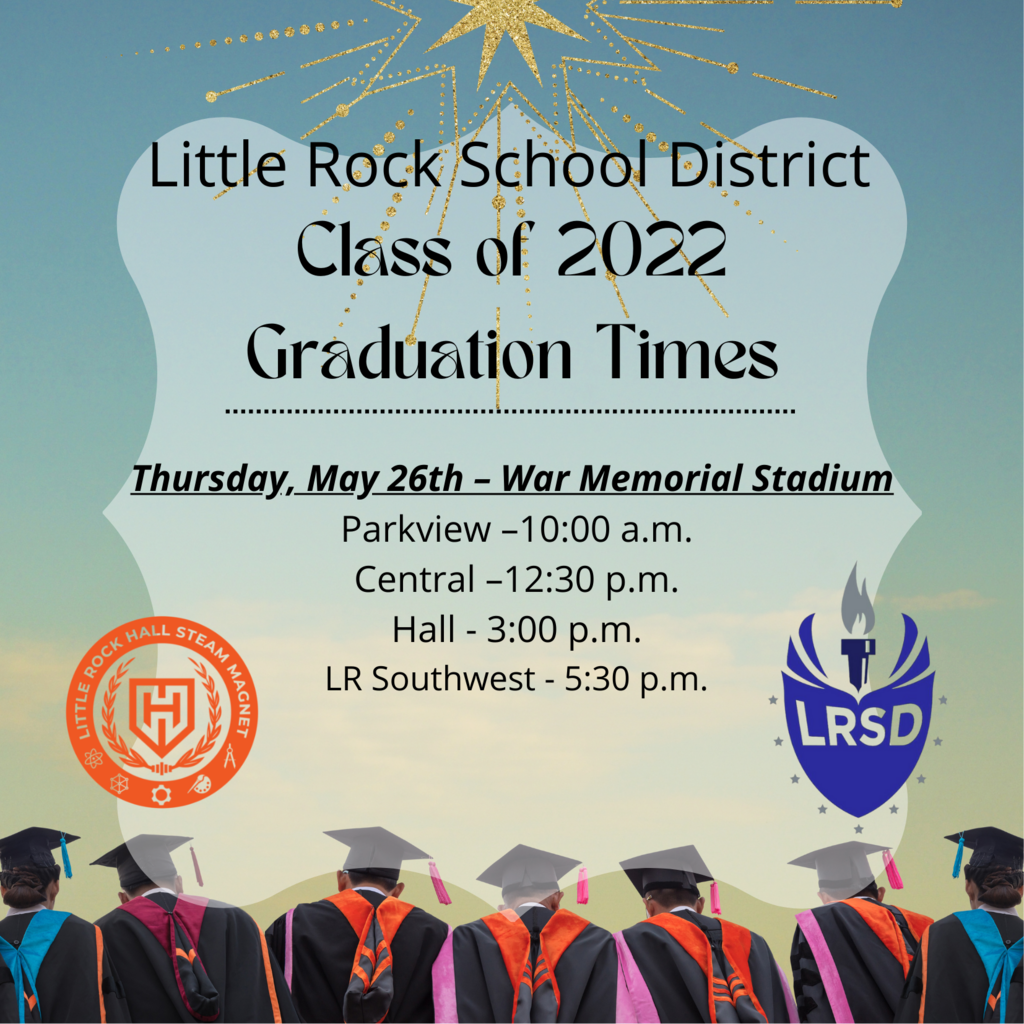 After careful consideration related to the impending threat of severe weather and following ongoing consultation with the National Weather Service and local forecasters, LRSD is announcing that graduation ceremonies for Hall STEAM and Little Rock Southwest Magnet high schools will be postponed from Wednesday, May 25th, to Thursday, May 26th, at War Memorial Stadium. Hall's ceremony will be held at 3 p.m., Thursday at War Memorial Stadium, followed by Little Rock Southwest's ceremony at 5:30 p.m. As a reminder, all ceremonies will be livestreamed on LRSD's YouTube Channel –
www.lrsdlive.com
.
LRSD is announcing a postponement of graduation ceremonies scheduled for Tuesday, May 24th -rescheduled to Thursday, May 26th at War Memorial Stadium. This includes Parkview and Central high schools. This decision is being made out of an abundance of caution due to the impending threat of severe weather. Parkview's ceremony will be held at 10 a.m., Thursday, at War Memorial Stadium, followed by Central's ceremony at 12:30 p.m. We are continuing to monitor weather developments and an update regarding Wednesday's graduation ceremonies for Hall and Little Rock Southwest will be shared by noon, tomorrow. Please know that we are doing all we can to ensure that this is a wonderful and safe celebration for all of our students and families.
Good Evening Warrior Family, Students in grades 9th-11th will take semester exams this week. Students only need to attend when they have an exam to take. Several students have already completed projects/exams or have been exempt by their teacher and should not attend if projects or exams are completed. The exam schedule has been emailed and posted to our website, social media outlets and Schoology. Students are free to leave at the end of their 2nd exam, lunch will be served 1-1:30. Dismissal will follow at 1:30. Students must turn in their chrome books when they have completed all their exams!
Information regarding final exam schedule/last week of school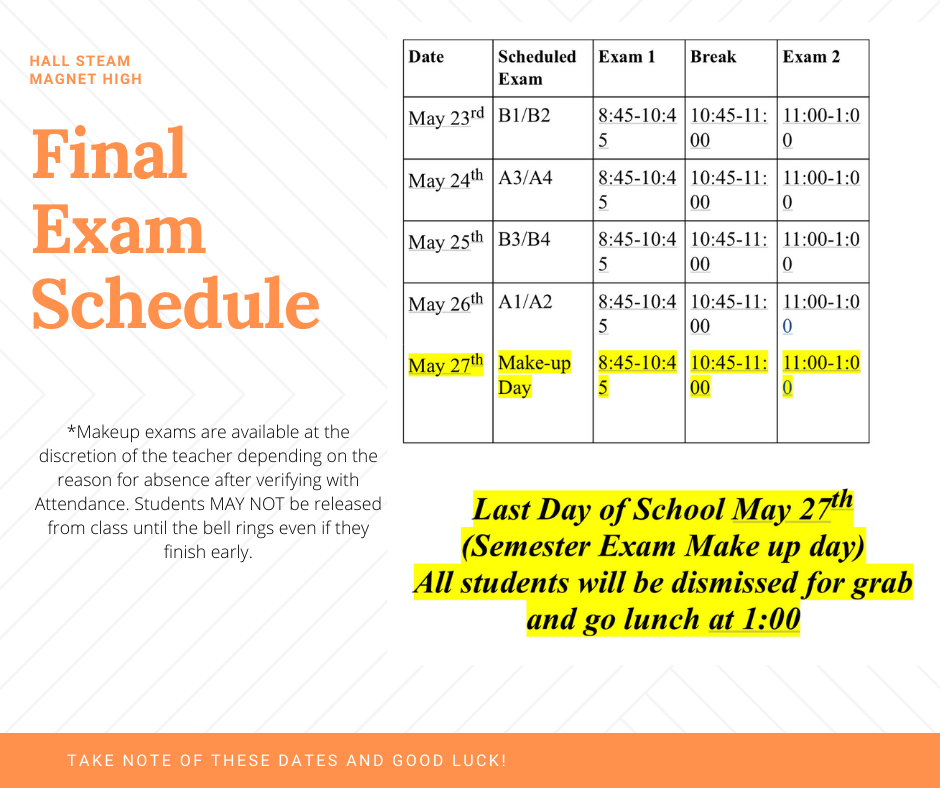 Chomebook Reminder: All SENIORS should be turning in their chomebooks today once finals are completed to the media center. 9th-11th graders will turn in their chromebooks next week after their finals are completed. If student chromebooks are not turned in they will be marked as "lost" in Incident IQ and parents will receive a bill for replacement.
Information for SENIORS regarding GRADUATION: Tuesday, May 24, 2022: Mandatory graduation practice; War Memorial at 10:00 a.m. Wednesday, May 25, 2022: Graduation; War Memorial; 3:45 arrival time for graduates Attire for Graduating Seniors: Girls (black or white dress shoes or nice tennis shoes for this year only, no heels; white dress OR white blouse with black skirt/dress pants); Boys (black dress shoes or nice tennis shoes for this year only; white dress shirt with dark tie or bow tie; black dress pants)
SENIOR Chormebook collection will occur May 12th-20th. Seniors MUST check-in Chomebooks to Ms. Callaway-Frasier in the media center after the completion of all finals.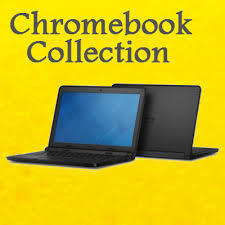 UAMS will be offering a summer academy camp at Hall in June! There will be a parent informational meeting Thursday, May 5. We are exciting to be partnering with UAMS for this extensive summer camp!!! Hope to see you at the meeting!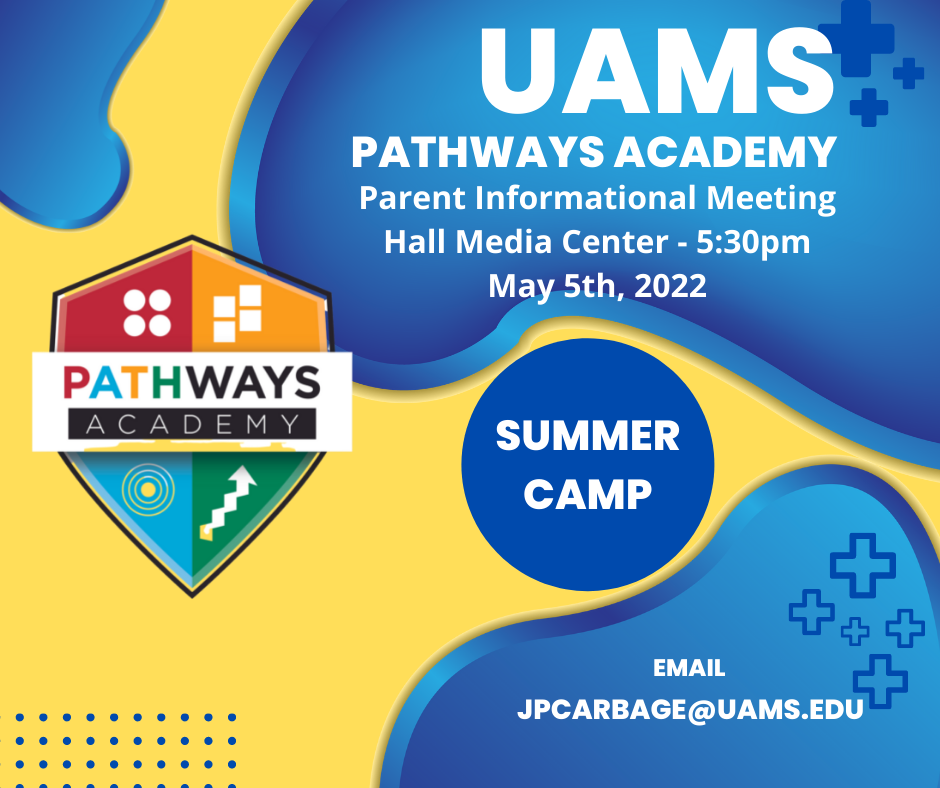 AP testing begins tomorrow. Please view the schedule for dates and times of testing.
Student receiving Covid gift cards will be signed out to them during fourth block today.
If your student plans to play football next year, there is a parent meeting Thursday, April 28 at 6pm at Cirks Arena (the new gym). If you cannot make it to the meeting, please contact Coach Withrow for anything you missed.
We will be back to our normal bell schedule tomorrow! Testing is completed for the week.
9th and 10th graders begin state testing this week! Please remember to bring those chromebooks to school every day and keep them fully charged!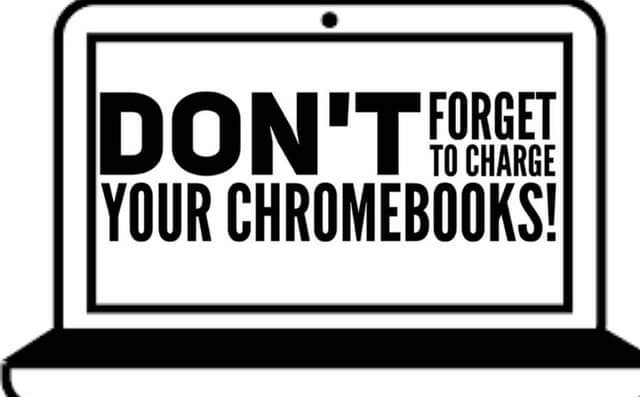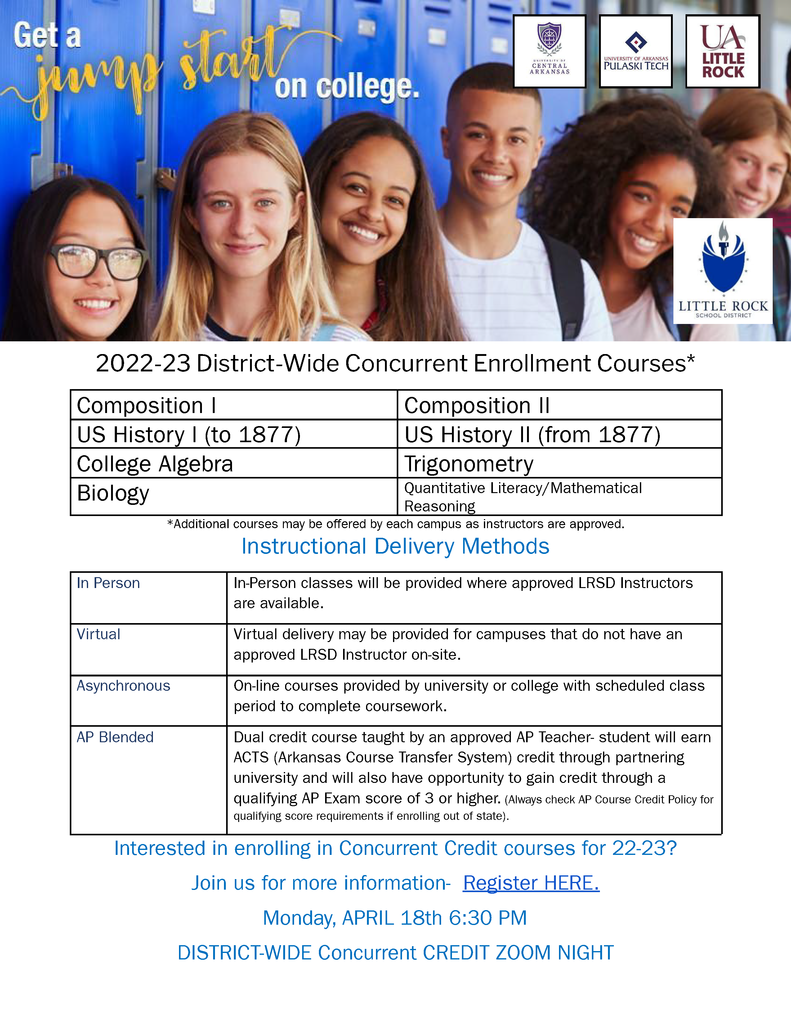 Senior Week - April 25th - 29th!
LRSD Board Votes to Make Masks Optional Effective Immediately - Urges Respect for Those Who Choose to wear masks. For more information please visit the Little Rock School District Facebook page.