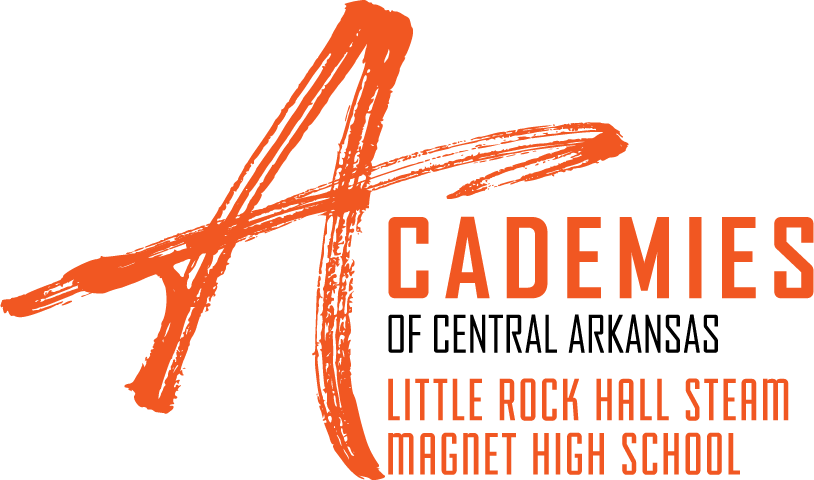 Hall High is proud to be part of the Academies of Central Arkansas. The academy approach design allows for ALL students to be college and/or career ready once they graduate. Hall is proud to offer the Academy of Health Science and the Academy of Engineering.
In these academies, students will take one course per year starting their freshman year in the area of biomedical science or engineering. Once they reach their senior year, they will have options for internships and/or industry certifications. In addition, all incoming 9th graders will take Freshman Seminar, a course that will prepare them and provide them skills to succeed in high school.
All academy classes will utilize the Project Lead the Way Curriculum.
Academy of Biomedical Science
Students in this pathway are taking on real world medical challenges – and they're doing it before they even leave high school! Working with the same tools used by professionals in hospitals and labs, students engage in compelling, hands on activities and work together to find solutions to problems. Whether discovering new cancer treatments or teaching healthy lifestyle choices, todays biomedical science professionals are tackling big challenges to make the world a better place.
Courses taken with this academy:
Principles of Biomedical Science
From design and data analysis to outbreaks, clinical empathy, health promotion, and more, students explore the vast range of careers in biomedical sciences. They develop not just technical skills, but also in-demand, transportable skills that they need to thrive in life and career.

Through projects such as determining the identity of a skeleton using both forensic anthropology and DNA analysis, students examine the interactions of human body systems and apply what they know to solve real-world medical cases.
Students delve into activities like designing a prosthetic arm as they follow the life of a fictitious family and investigate how to prevent, diagnose, and treat disease.
Students build on the knowledge and skills gained from previous courses to design their own innovative solutions for the most pressing health challenges of the 21st century.
Academy of Engineering
Our engineering pathway empowers students to step into the role of an engineer, coder, computer scientist to adopt a problem-solving mindset, and make the leap from dreamers to doers. These courses engage students in compelling, real-world challenges that help them become better collaborators and thinkers.
Courses taken within this academy:
Introduction to Engineering Design
Students dig deep into the engineering design process, applying math, science, and engineering standards to hands-on projects like designing a new toy or improving an existing product.
Students explore a broad range of engineering topics including mechanisms, strength of structure and materials, and automation, and then they apply what they know to take on challenges like designing a self-powered car.
Computer Integrated Manufacturing
Students discover and explore manufacturing processes, product design, robotics, and automation, and then they apply what they have learned to design solutions for real-world manufacturing problems.
Engineering Design and Development
Students identify a real-world challenge and then research, design, and test a solution, ultimately presenting their unique solutions to a panel of engineers.